Elevating Great North Air Ambulance's supporter experience
Increasing donations with a new website and donation platform for the North's emergency helicopter service.
Project overview
Great North Air Ambulance is a charitable organisation that provides critical care and medical services to people in the North East of England, Cumbria, and North Yorkshire. The charity acts as an emergency service for those in need, transporting injured and sick people by helicopter 365 days a year, especially in the remote areas of the regions they cover. GNASS are not NHS-funded and rely 100% on charitable donations to survive and deliver their life-saving services.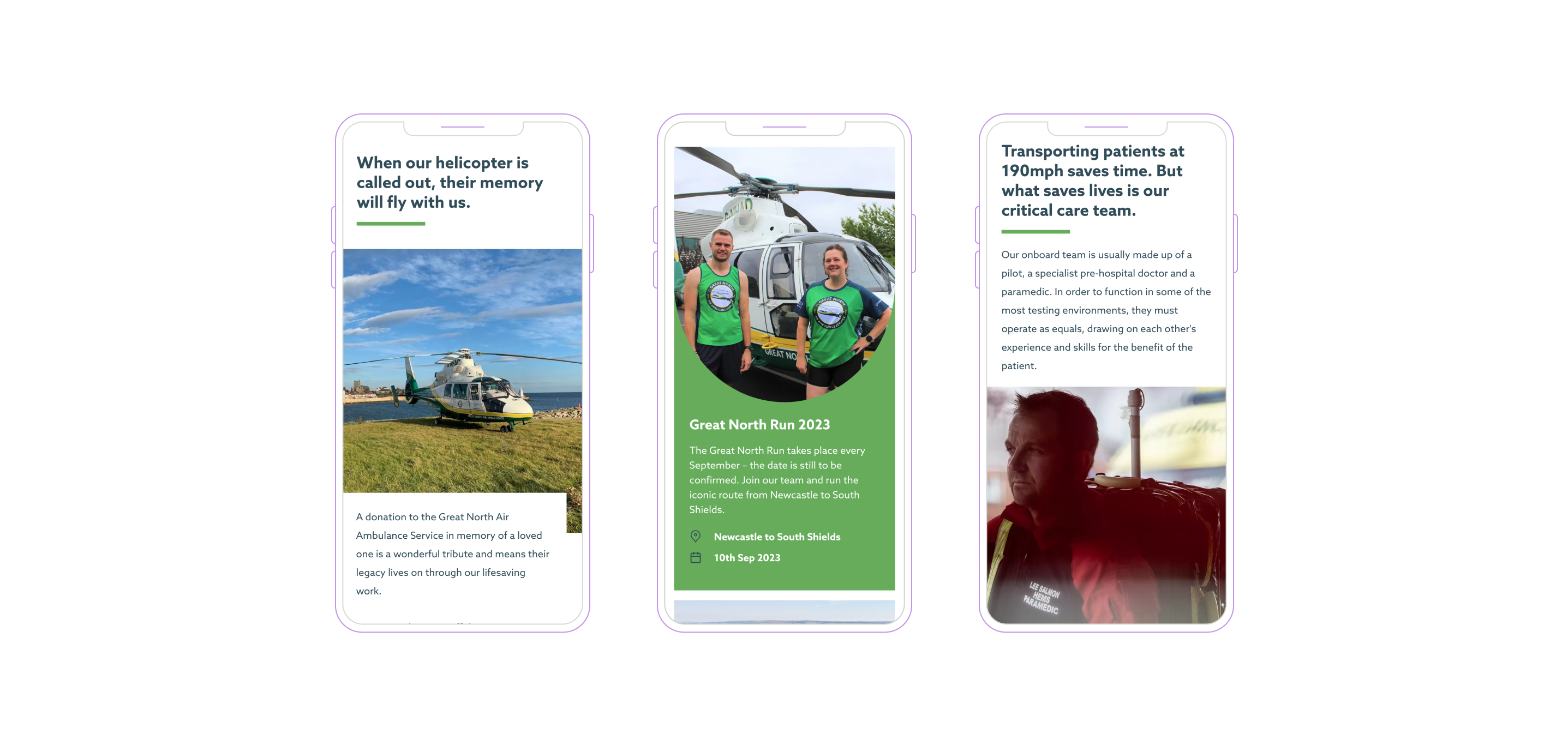 The brief

GNAAS's website is key to generating critical revenue streams for their core services. It acts as the most important piece in their multi-channel marketing strategy and serves their core charitable goals. They needed a new website that would engage and inform its visitors while also driving online donations as well as supporting their popular lottery fundraiser. The website also needed to be optimised for mobile devices and be integrated with the charity's Donorflex CRM system. To achieve this, they looked for a digital partner who had experience of working with complex business structures, not-for-profits and where conversion was critical to site performance.
The solution

GNAAS engaged Elementary Digital to achieve their objective of delivering a leading online experience for an air ambulance service across fundraising, events, donations and volunteer engagement. We worked closely with the charity's team to develop a user experience and conversion-focused design centred on how to effectively manage supporters and drive donation revenue. To support membership and donation management, we used our experience in integrating complex systems with WordPress to create a bespoke integration with Donorflex that allowed for real-time data syncing. This meant that the charity's team could easily manage online donations and keep track of donor information without having to manually update the system. Automating functions like direct debit sign-ups and lottery (including age verification) dramatically reduced the amount of manual processing of donations. A self-service portal allowed supporters to manage their donation and gifting history, reducing the amount of work required by GNAAS support staff to manage donors.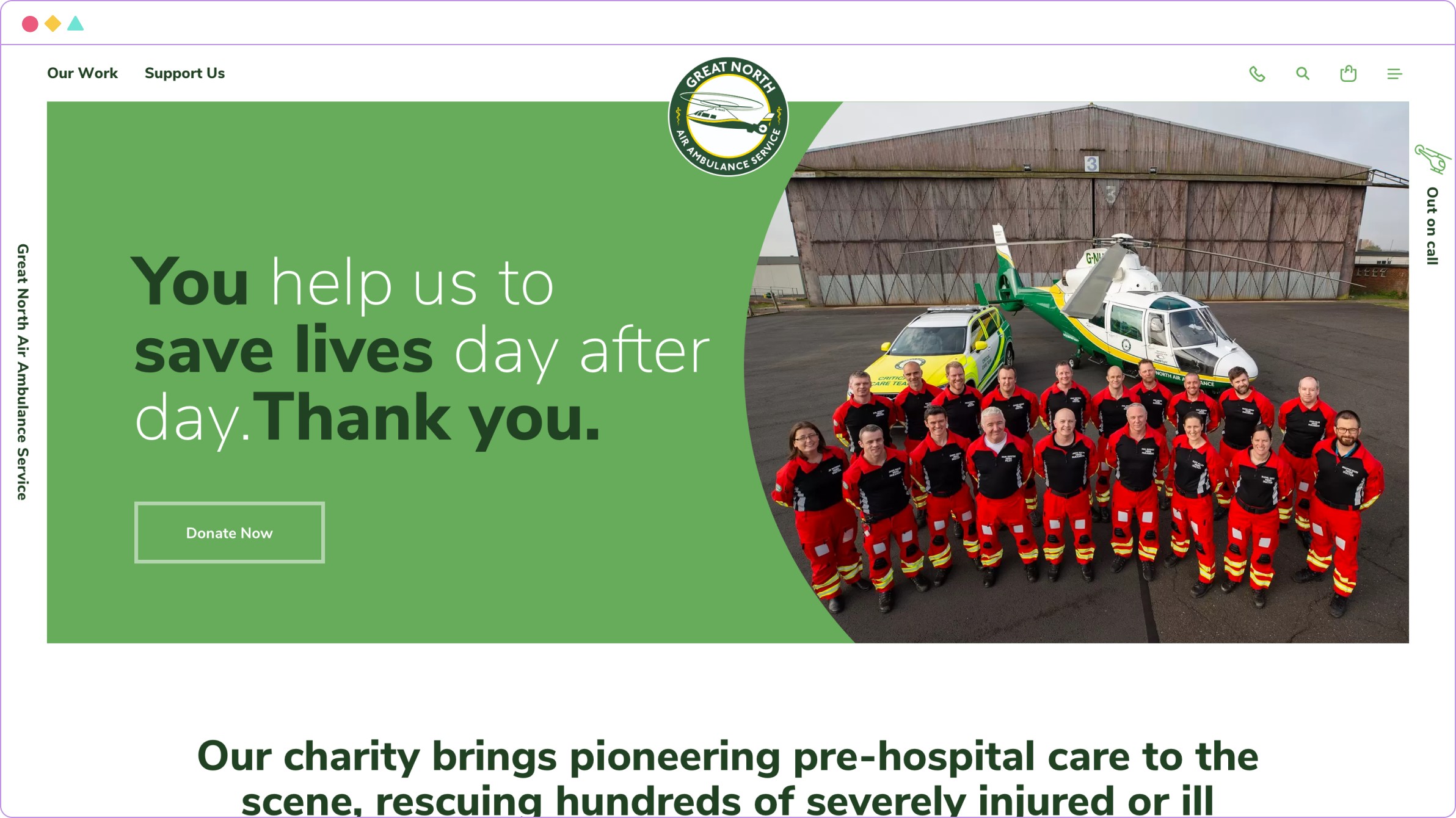 Donorflex integration


Donorflex is a popular customer relationship management (CRM) software used by many non-profit organisations to manage their donor database, track donations, and facilitate fundraising activities. The site's bespoke integration with Donorflex allowed GNAAS to accept donations directly from the website, improving the overall donor experience by providing them with a seamless donation process. It provides real-time data syncing, allowing for accurate and up-to-date reporting for the charity, and giving supporters the ability to manage their one-off and regular giving. From an entirely manual process, the new website enabled GNAAS to automate most donor actions, such as submitting direct debit details and purchasing lottery tickets. As a result the charity's team was able to spend more time on fundraising activities rather than managing manual data entry.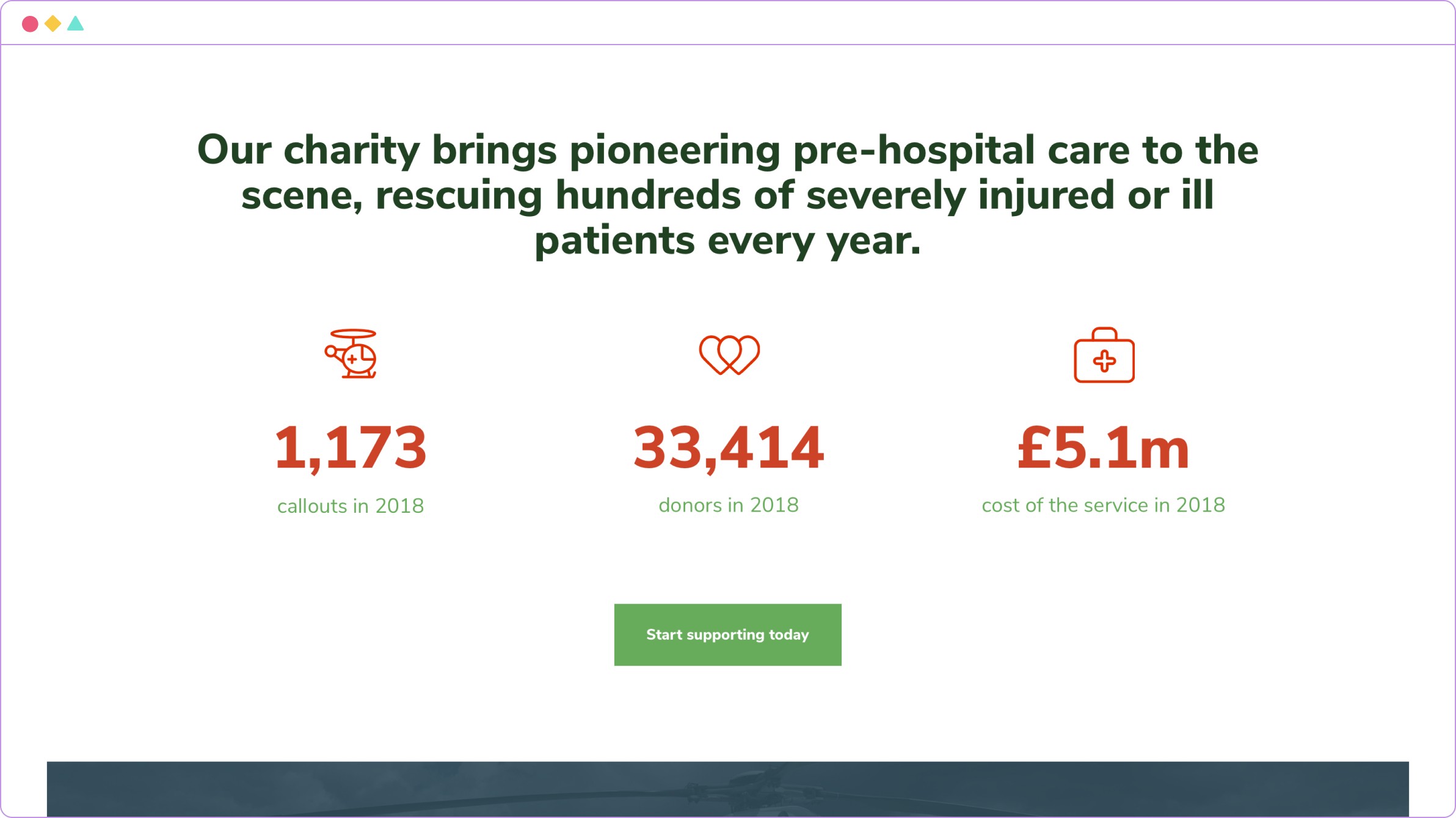 The challenge


As a charity, GNAAS supports a number of different giving options and revenue streams. To support all of these options the site's e-commerce requirements were complex. This required WordPress to integrate with card payment gateways, direct debits, lottery purchases with age verification and Donorflex. We united Woocommerce and Gravity Forms, two widely-used WordPress plugins that offer robust e-commerce and form functionality, to serve as the foundation of the site's e-commerce functionality. Woocommerce handles card transactions such as one-off giving, while direct debits are handled by Gravity Forms, within a unified donor experience. A key legal requirement of the checkout process was verifying the age of lottery entrants. We linked the lottery system with LexisNexus, a powerful identity verification system, to verify the identity and age of participants and ensure that each entry was legitimate.
Our impact
+26%
Page views
After launching the new website, GNAAS saw a significant increase in site performance. Page views increased by 26%.
+35%
Online revenue
Online donation revenue increased by 35%, showing that the website was highly effective in driving donations.
+41%
Session duration
The session duration increased by 41%, indicating that visitors were spending more time on the site.
The people that made it possible